Lonely Bouquet Day 28th June 2020
15 June 2020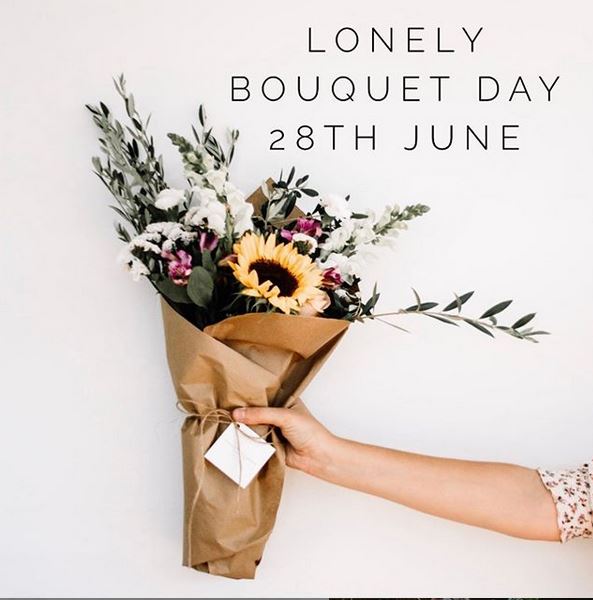 It's back! One of our favourite events in floristry – Lonely Bouquet Day. This year International Lonely Bouquet day falls on Sunday 28th June, so get ready for heart-warming stories from around the globe as local florists share the joy of flowers by leaving Lonely Bouquets to be found.
This year has been particularly strange with COVID-19 affecting us all world-wide with lockdown and not being able to see friends and family. So you never know, your Lonely Bouquet with the message of happiness and kindness may be found by someone when they need it the most in 2020.
The story behind Lonely Bouquet Day
The Lonely Bouquet movement was founded by Emily Avenson, a farmer-florist in Belgium who started the campaign via her blog back in 2013. Her mission? To spread happiness and smiles, one flower at a time!
From there, the idea has captured the imagination of florists world-wide and inspired the floristry industry with the movement has grown year on year. And 2020 looks to be the biggest celebration of flowers yet!
So how does Lonely Bouquet Day work?
On Sunday 28th June 2020, simply leave a bouquet of flowers to be found by a lucky stranger. You add a 'Take Me' tag with your message to the finder. Many florists will leave a contact or social media link, so that the finder can share the bouquet has found its new home.
What flowers can I use for the Lonely Bouquet?
The beauty is you can create whatever you want! From jam jars filled with wild style blooms to sunflowers wrapped in kraft paper – the Lonely Bouquet doesn't have to be extravagant, as the meaning behind it is the key.
Where can I leave my Lonely Bouquet?
In the past, Lonely Bouquets have been left by local florists to be discovered in many different locations. From park benches, city centres, doorsteps, bus stops, churches, railway stations – you can pick a local spot that means a lot to you.
Some florists also add their own twist to Lonely Bouquet Day, by creating a buzz on social media – such as posting clues about where the bouquet is hidden, like a flower treasure hunt!
Share the love
There is an official Lonely Bouquet website and a dedicated Facebook page where people can share their Lonely Bouquet story. Over the years there have been many amazing stories from both the florist and the bouquet finder, and they are so touching to read. This lovely gesture is designed to bring a smile to the finders face - and often when a small message of kindness is most needed.
I'm a local florist, how do I get involved?
There is lots of information to get involved on the Lonely Bouquet website, check out The Paper Studio who supply free Lonely Bouquet Tags for florists, and visit the British Florist Association for industry updates.
Although Lonely Bouquet has an International day every year dedicated to it, you can use the inspiration all year round and leave Lonely Bouquets whenever you want!