Highlights from FleurEx 2022
18 October 2022
We are back at floristPro HQ in sunny Sussex after a weekend of floristry at the BFA FleurEx event 2022. And what a weekend it was; florists, suppliers, wholesalers and growers from across the UK and beyond came together to celebrate the flower industry with masterclasses and competitions, business drop-in sessions, exhibition and wild dancing at the awards dinner! We share the highlights from the fabulous weekend of FleurEx 2022.

FleurEx Exhibitors
Our Marketing Manager Cara and Support Team Leader James (pictured left) were on our floristPro exhibit stand chatting about all things floristry websites, and we loved seeing some familiar faces and meeting new ones too! This year there was a huge range of industry exhibitors and growers at FleurEx including; Hoek Flowers (who scooped Flower Supplier of the Year) with their stunning pink stand and oh so pretty cart with free gin cocktails which went down a treat, we loved the BoutStik – whose Founder Nancy flew all the way from Canada for the event - for easy buttonholes with magnets (no more fiddly pins on the big day!), and Christmas was certainly a popular theme for the stands too, with the likes of Flourish Trading wholesalers having beautiful stands full of Christmas sundries, accessories and wreaths.
Business Drop-in Sessions
This was the first year at FleurEx that Business Drop-In Sessions were held, and they went down a storm! Covering a range of relevant topics from different speakers including; social media and marketing tips, sustainability, British flowers rock, making business profitable and getting to know more about the British Florist Association. Our very own Marketing Manager Cara hosted a session on 5 tips to do today for your flower business - so if you missed her talk and want to find out more, give us a call on 01903 773377 for a chat.
BFA Awards Dinner 2022
The Gala Awards Dinner on the Saturday night was attended by over 200 florists and industry people, and what an entertaining night it was!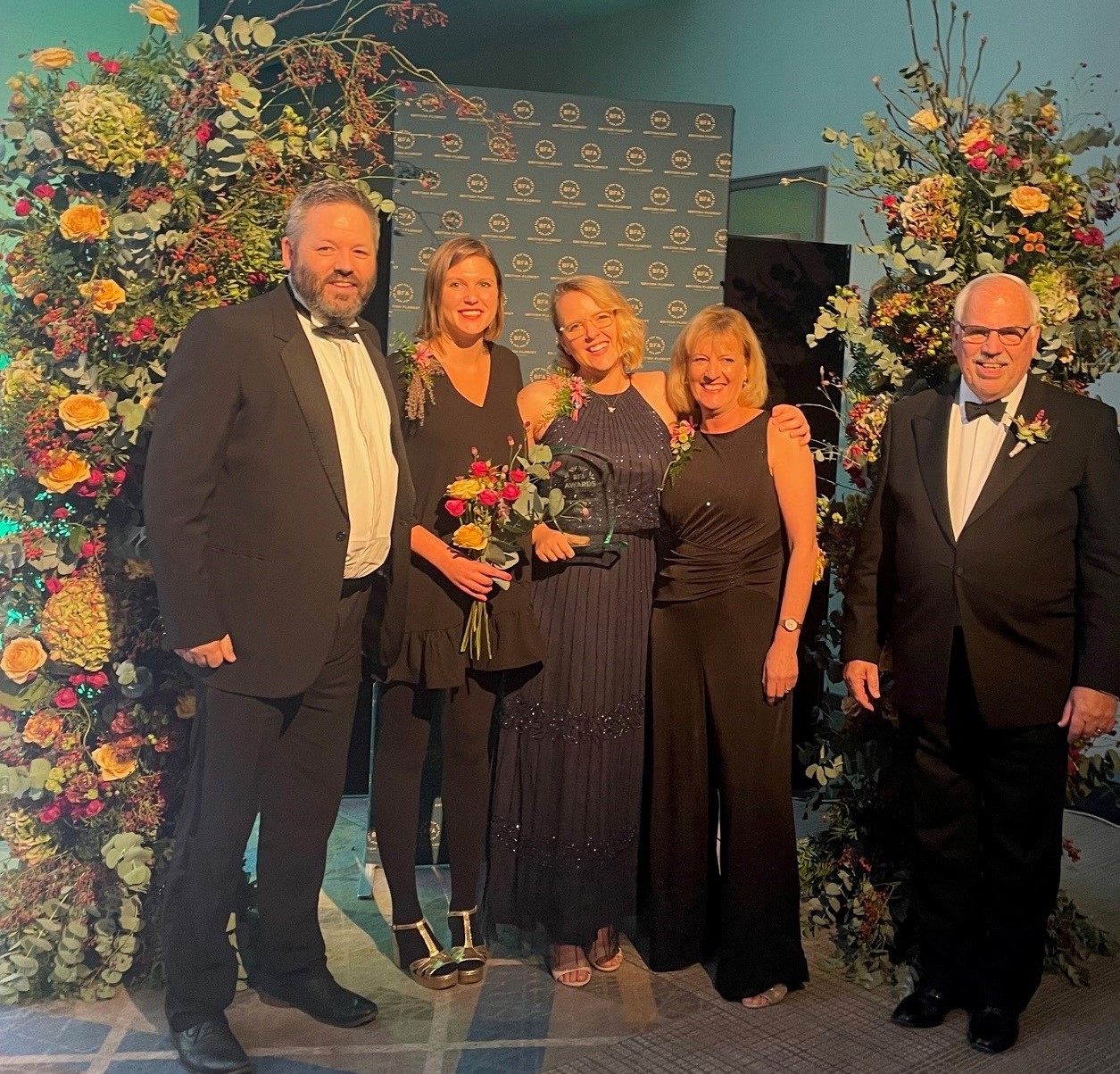 floristPro websites made the finals for Floristry Service Provider of the Year, and we were delighted to come 2nd in our category. Thank you SO much from the bottom of our hearts to every single person who voted for us this year, it means a lot to us! The lovely team at Strelitzia Software (pictured right with Brian Wills-Pope, BFA Chairman) just pipped us at the post to scoop 1st place, so it was a fun night on the dance floor celebrating their win … and who can forget James's red shoes!
And a huge congratulations to one of our floristPro website customers, the lovely Nicola from The Bloom Room Cumbria, who was crowned Retail Florist of the Year 2022! An amazing achievement, Nicola wowed the Panel Judges with her dedication to her business, stunning floral designs and all round passion for the industry. Head on over to her lovely website to check out Nicola's work!
To discover the other category winners from the BFA Industry Awards 2022, head on over to the BFA website for all the details!
Did you make it to FleurEx this year?
We hope you enjoyed every minute if you did! If not, make sure you keep an eye out on the website for the next British Florist Association event - not to be missed by any florist!