Award winners, flower trends and tips from McQueens
01 November 2021
We are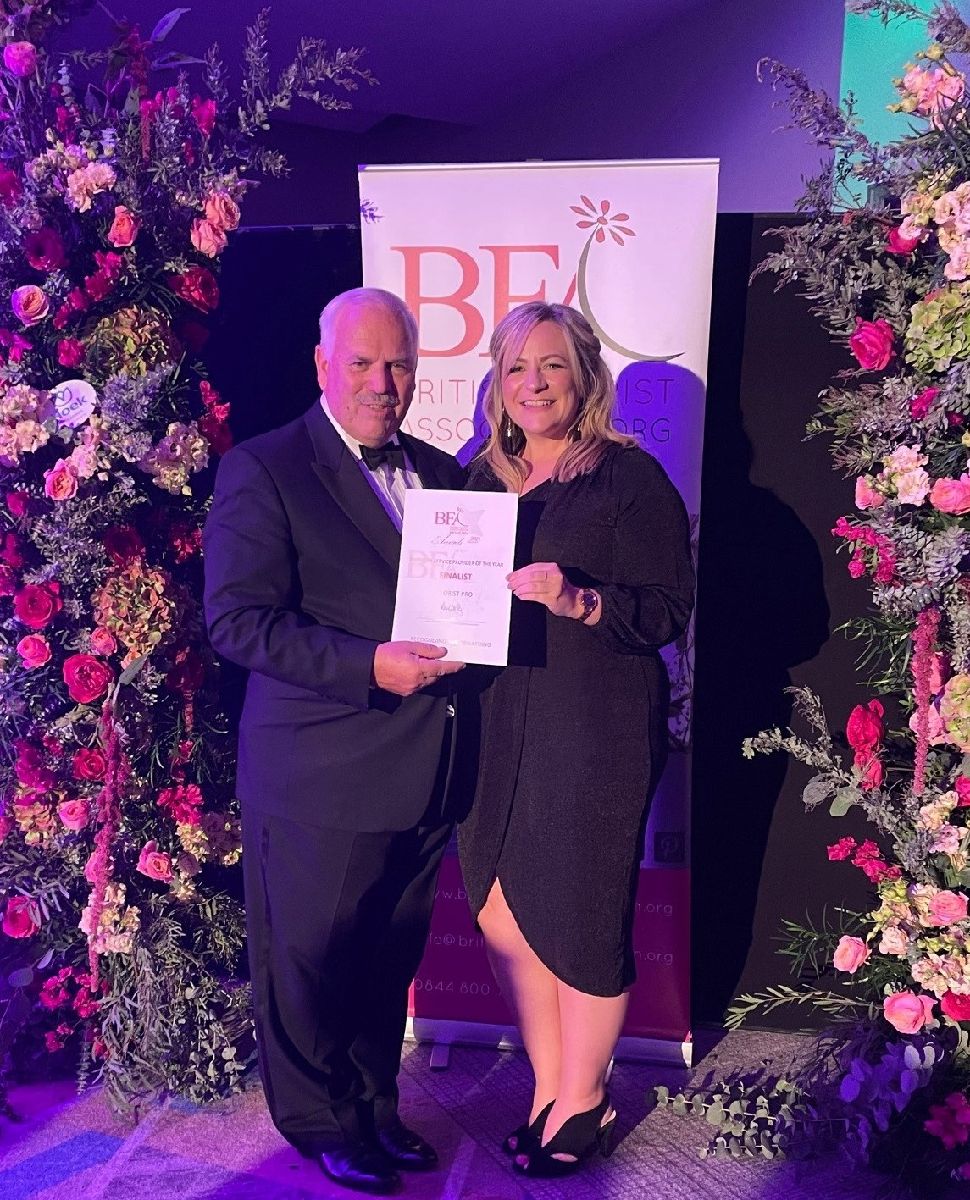 back at floristPro HQ after an amazing weekend away at the British Florist Association Industry Awards Dinner & Vision 2021 conference. Held at the Jurys Inn near Leicester, it was a fun filled weekend with florists, industry suppliers and experts attending from the UK and Europe. The format for speakers this year was more informal, more like a friendly chat on stage with the host which was brillaint, with Q&As at the end. We had Helen Chambers from Evolve Flowers talking all things British Flowers, world-renownded McQueens Flowers dream team Richard and Karen sharing product tips and Merel van den Burg giving flower trend predictions for 2022.
We share some of our highlights of the event and behind the scenes action with you!
floristPro websites industry awards
We were over the moon to be firstly nominated, and then finalists in this years BFA Industry Awards, in the category Floristry Service Provider. We were so proud on Saturday night to win 3rd place in our category – a huge and heartfelt thank you to everyone who voted for us! As a small business with our roots long in the flower industry, we love working with florists, designers and other small businesses to create bespoke websites that really reflect their brand and offering high customer service. It is something we are dedicated and passionate about, so to have the teams' hard work being recognised is truly amazing.
(Pictured) Here is our Marketing Manager Cara with BFA Chairman Brian Wills-Pope accepting floristPro website business award!
And a massive congratulations to all the other florists and industry suppliers who won awards or made the finals, you are all fabulous in our eyes! This included the lovely Little Buds Peony Farm team in Kent winning Grower of the Year, Direct2Florist scooping up National Flower Sender of the Year for the 2nd year running, Sundries Supplier of the Year being awarded to Country Baskets and BJ Richards in Cornwall being crowned Local Flower Wholesaler of the Year.
You can view a list of the 2021 winners and photos from the gala dinner on the British Florist Association website.
Product tips from McQueens Flowers
McQueens Flowers CEO Richard Eagleton and retail expert Karen Barnes shared their insights into product development and how to create bouquets your customers will love to buy. It was fascinating to hear how McQueens actually keep their online bouquets so simple – a core all year round range and then seasonally 16 new products, which often use the same stems but in different colour ways or styles. This helps with buying stock and making it easier in the shop for stock levels!
Top tips for the best website products from McQueens Flowers:
The product image is THE most important thing - well lit, fair snapshot of the size/colour of the bouquet. The image has to attract the customer in under 3 seconds!
A short product description that reassures the customer and drives home the message that this is the right product for them to buy.
Include flower names in the product description as this helps with SEO!
And Richard's favourite – design something YOU love and share that passion with your customer
We LOVE British Flowers!
The fabulous Helen Chambers from Evolve Flowers was one of the guest speakers at Vision 2021. Helen shared with us how her business idea came about - her passion for helping florists get their hands on all the wonderful British grown flowers and foliage – and how business has bloomed and evolved over the years since she launched.
Helens top tips for florists looking to buy British grown blooms and retail them successfully to customers:
Share the story; shout out if British blooms are used in bouquets, share the story of where the flowers are from with customers – this is great for blogs and social media.
Be flexible with what you buy; some years flowers such as peonies may not be as fab as normal due to growing conditions, but others like sunflowers may be on top form.
Have fun with British blooms to engage with customers; her googly eyes on sunflowers went down a treat with customers on social media.

Flower Trends 2022
Merel van den Burg gave a talk about her predictions for flower trends for 2022 and how to spot trends by looking at high fashion, interior design and social media to see what's popular. She also shared some fabulous ideas on how to bring these trends alive in your flower shop, help inspire customers and your own shop staff.
The flower trends to watch out for in 2022
Kaleidoscope Colour: Brilliant for using seasonal flowers such as tulips, be brave and mix & match colours. Yellow & orange petals are must haves for vibrant bouquet designs!
Going Green. Big leaf plants will be huge still for home interior design, along with customers loving eco-friendly touches such as less cellophane or upcycling.
Luxe Black. This Christmas black is THE colour for luxurious, minimalist designs. Dried flowers work well for this trend, mix in hints of copper or gold for stylish warmth.
Scented & Trailing. Ruffles are back in fashion! This has inspired floral designs which use really textured petals. Trailing wedding bouquets to show off your floristry skills, and garden roses, matthiola and fressia for perfect scents.
Merel's top tip for flower trends is go big and make an impact – don't just buy a few stems of an unusual flower, go all out and make it a feature in your shop.
FleurEx 2022 dates announced!
We loved our weekend at the British Florist Association Vision & Awards Dinner. floristPro websites were proud sponsors of the event to help support our industry and the amazing work of the BFA. See you all at FleurEx next year on the 15th & 16th of October 2022!