10 tips to writing the best product description
17 February 2020
A product description is the text that will show next to your flowers or gift product image on your website. This text is VITAL on an ecommerce website – it not only gives you the chance to supply important information to the reader, when well written it can help convince the customer to press the buy button. Research has shown a massive 87% of consumers rate product content as extremely or very important when deciding to buy online, proving it is an essential part of the customer journey on your floristry website.
A good product description isn't just for the consumer though - it also helps search engines such as Google and Yahoo to find key search terms related to the products you are selling. So grab yourself a cup of tea, have a read of our Top 10 Tips to Writing the Best Product Descriptions, and then get typing!
Tip #1 Know your buyer
When writing a product description, step back and think about who the likely buyer is. What occasion and emotions are the flowers for? How do you describe the product? What words and style of language would you use if they were in your florist shop looking to purchase flowers?
Now put that face-to-face conversation in to the description text of the product! It is worth reading your description out loud to yourself once you have written the draft – does it sound natural and in line with your brand tone? Is it suitable language for the category (such as sympathy flowers need a softer tone with no jokes)?
Tip #2 Unique text only!
DO NOT COPY AND PASTE TEXT FROM ANOTHER WEBSITE. NEVER EVER.
This is something that the search engines like Google dislike A LOT on a website – trust us, these clever robots can easily spot if big chunks of text are also another website! Search engines want to see unique and useful text on key pages of a site, as websites with duplicated text are penalised for SEO and ranking.
Also, from a customer perspective they want to read descriptions that carries your brand tone, and really personal to your products. By all means have a browse of other websites selling products - any sort of products - for inspiration and to see the good, the bad and the ugly descriptions out there! But then take the time to write your own product description, in your own words.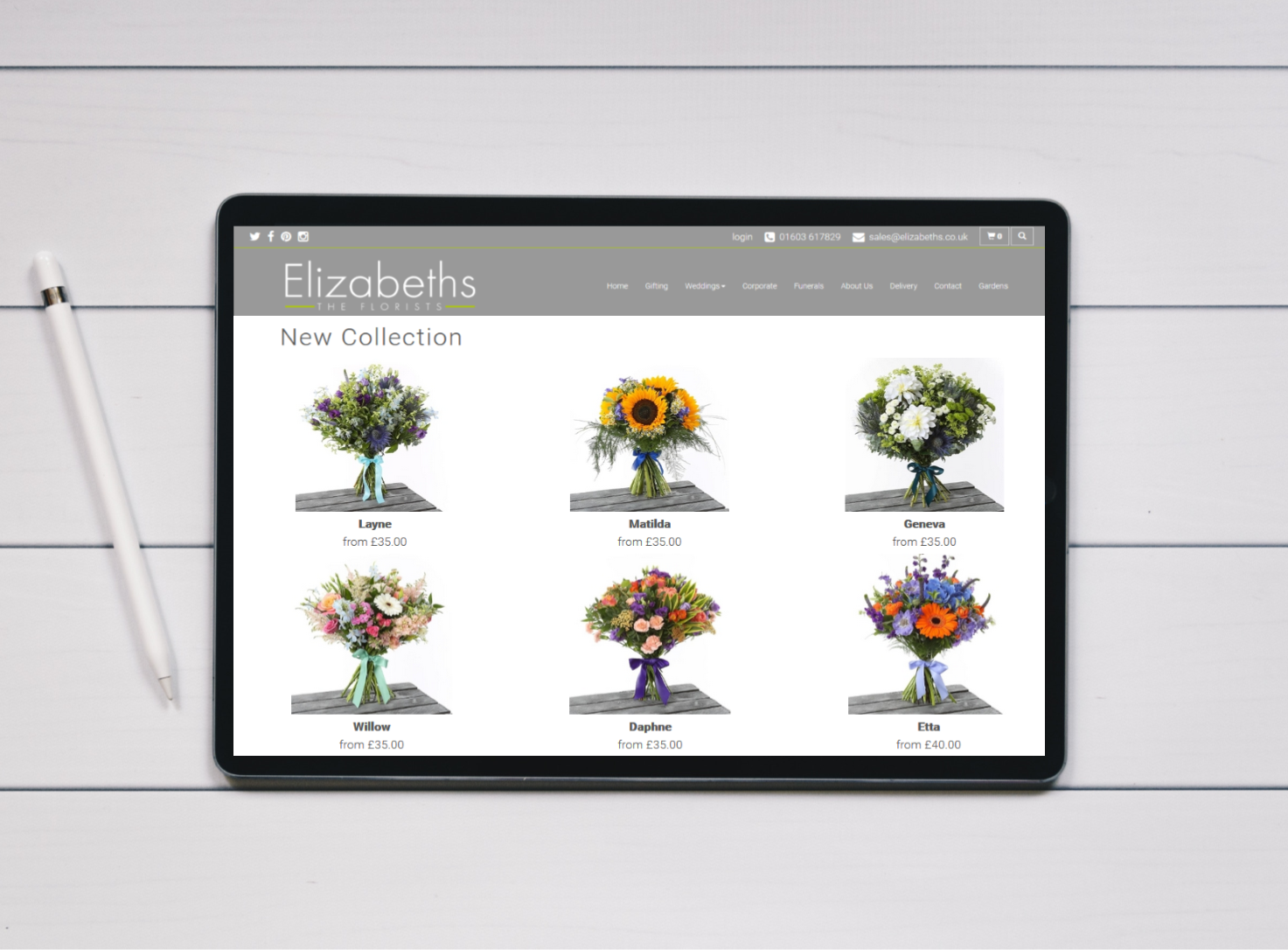 Tip #3 Use good product images
Product descriptions aren't just words, they are visual as well! A gorgeous product image is just as a key as the text next to it - the image will grab the customers attention and immediately give a visual representation of that the product will look like. The image should be high-quality (i.e not blurry), clean background to let the product shine and accurately show the product.
As florists, you are lucky that you work with some of the most beautiful products in the world - fresh flowers! The flower colours, petal textures and your floral design style look fabulous on a screen. Here at floristPro we encourage all our florist clients to use their own product images on their website - after all, that is what makes you stand out from the competition. Your customers choose to purchase flowers online because they love your style; may that be contemporary floristry, traditional twist or rustic and wild.
However we do know that finding the time, setting and equipment to take product images can be tough as a busy florist! Which is why we have a range of Image collections exclusively for our floristPro website customers to purchase. The talented team at Elizabeth's the Florists create the stunning professional images for us which feature best selling seasonal designs against a clean background. The floristPro Image Collections include Romance, Summer, Funeral and Core Gift with prices starting from just £10 +VAT.
Tip #4 Build the trust
One of the selling point when a customer is choosing a business to buy from online is trust. It may seem strange trying to build trust through a computer screen, but actually it is pretty straight forward and effective.
As a florist, you have tons and tons of knowledge that can be shared with your customers. Sharing this information shows you know your stuff, and go the extra mile to help your customer with tips. So when you are writing your product descriptions think about any little extras you can throw in - seasonality information? Pet friendly? Suitable for hay fever sufferer? Best place to display the flowers? All these little extra touches gives the customer a more personal experience with your brand.
Tip #5 Include important information
Ensure any vital information the customer may need to know is clearly shown and answer any common questions you get about the product. For example, if the product requires 2 days' notice, the size and dimension, or availability dates should be clearly stated.
Imagine the disappointment if they were ordered important flowers only to receive a phone call to say – sorry, product not available for 3 months!
Tip #6 Add a sprinkle of power words
There are words and phrases that create powerful emotional responses, which help consumers make a decision to buy. Sprinkle these words in your description, replacing bland phrases like high-quality or great with a much more emotive and sensory word.
Here are a few of our favourite power words you can try on your website:
Amazing
Aromatic
Artistic
Bespoke
Blissful
Blushing
Breath-taking
Daring
Delicate
Devoted
Delight
Dramatic
Dreamy
Enchanting
Extravagant
Graceful
Happy
Heartfelt
Hero
Hand-made
Jewel
Lush
Majestic
Premium
Rustic
Sensational
Sophisticated
Striking
Spectacular
Ultimate
Uplifting
Velvety
Wonderful
Tip #7 Mini stories
A big part of the customer journey of buying online is emotional. This is where story telling comes in to play, as an effective emotional influence on buying behaviour. For flowers, a great mini story could be the meaning behind the flowers used, what inspired the design, the significance of 12 red roses, where the flowers were sourced from, and how the flowers can help solve a problem.

Tip #8 Highlight the Benefits
Yes, it is important to include the key features and facts about the product. This is the vital information so the customer knows what they are buying; such as 12 red roses wrapped in kraft paper.
But it's not just the facts of the product you need to write about, but also WHY it benefits the customer. As a trained florist you know all the cool hidden benefits of certain flowers and plants. Is it known for purifying air? Super easy to care for? The most romantic flowers? These benefits are an emotional pull, making the customer not only NEED the product but really WANT that product too!
This is something the team at Mad Lilies in Banstead are A-MAZ-ING at. Each of their bespoke products has a cool name, gorgeous high-quality image and a description that sells that particular floral design to the customer. It's not just any old blooms used, it's blowsy blush pink roses mixed with delicate white tea roses, frilly clematis and scented Eucalyptus, presented in a signature presentation box, with swathes of tissue, satin ribbon and finished off with a hand written note card.
Who could say no to a product description like that?
Tip #9 Break it up
Don't underestimate the power of presentation! Some people read every single word, others scan read to quickly find out if it's what they are after.
You can help both types of readers by breaking up your product description – this is simple and easy to do. Try paragraphing the text into sections, using headings to highlight the theme of each part, using bold or italic to highlight key phrases, ensure the text size is easily readable, and bullet points where suitable.
Tip #10 Spell check, spell check and spell check again!
You have taken the time to write a stellar product description, but don't rush and miss out one vital step - double check there are no silly errors or dodgy spelling. Proof read. Use the spell check. Ask someone else to read it. With any content on your website, correct spelling and grammar is a must – it looks professional and shows care and attention to detail.