Celebrating 50 Golden Years in Floristry
25 April 2022
This year Susan and Brian Wills-Pope are celebrating the 50th birthday of their award-winning Susan's Flower Shop in the heart of Devon. And what an eventful 50 years it has been for the duo! Since she opened her very first flower shop doors back in May 1972, Susan has not stopped; Chelsea Gold Medal winner, expanding with more branches in the Torbay area, international floristry judging, and of course Brian alongside being flower delivery man extraordinaire, has been President of Interflora and now the Chairman of the British Florist Association. Phew!
We caught up with Brian Wills-Pope to get the story behind their success.
Congratulations on the 50th anniversary of Susan's Flower Shop! What are your plans to celebrate?
Thank you, we can't quite believe it ourselves! When we reach milestone birthdays, we always try and come up with some way to share that joy with our local community and say thanks for supporting our business over the years – without them we wouldn't be here. So for the 50th anniversary of Susan's Flower Shop, we are giving away 50 floral bouquets – people can nominate their daughter, teacher, fairy god mother, best friend, milkman, whom ever they wish - and all the names will be entered into the competition with a chance to win.
I'm sure we will also have a glass of champagne or 2 and big slice of cake with all our lovely team too!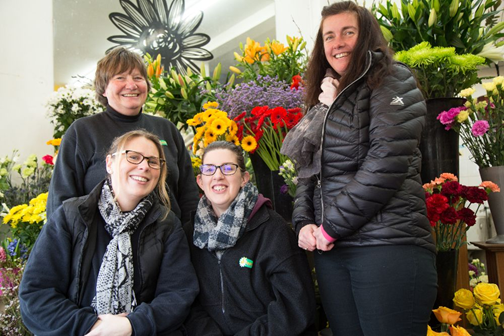 Tell us the story of how it all started?
Both our roots are planted deep in Devon; Susan is a local lass growing up in Paignton, and I grew up in nearby Exeter. She started out as a Saturday girl in a local flower shop, going on to complete 7 years floristry training before opening Susan's Flower Shop in Paignton in 1972 when she was just 24.
My plan was to become a Maths teacher before I fell in to working for a local floristry business in Teignmouth as bookkeeper and delivery man. When I left school I had worked at a local garden centre selling sundries, so had experience of the retail side along with the mathematical hat!
Susan and I met at a local Interflora Members meeting in the 1970's and we tied the knot in 1977. The church in Paignton we married in was so chock full of beautiful blooms for our wedding day, they held a flower festival afterwards to raise funds for the church! I gradually became more and more involved in the day-to-day business side of the shop, whilst Susan uses her talents with the floral designs and customers. We make a pretty good team I think.
What's your proudest business achievement?
We had opportunities over the years to expand the business with more branches; at one stage we had 7 flower shops across the Torbay area. That was an incredible experience - extremely busy but rewarding at the same time. It was great to see so many of our flowers being enjoyed by the locals, and our delivery vans being spotted out and about across Devon. Today, we still have 3 stores; the original Susan's Flower Shop in Paignton, Brixham, and The Flower Corner in Torquay.
It takes a lot of luck, being in the right place at the right time and a big dollop of courage, but I would say to other florists looking to open their first shop or expand the business – take that chance and go for it!
Both you and Susan have been greatly involved in the floristry industry over the years?
Yes we have been very fortunate to be so involved with the industry we love. Susan enjoyed competing when she was younger, winning Chelsea Gold Medal, before being invited to be a Judge at Chelsea Flower Show, UK Floristry Judges Guild, Interflora Florist of the Year, British Florist Association Industry finals along with other international competitions. She loves being able to give something back to the industry and share some of her passion and knowledge with other florists.
Over the period of 1977-1997 I kept busy as the South West Interflora rep before progressing to become a director, and served as World President of Interflora too. A fabulous 20 years travelling the world to visit members and growers, marketing, and much more. One of my treasured memories from that period was presenting Lady Diana, Princess of Wales, with an award – the Interflora Golden Mercury Award. Once I retired from Interflora world, I still wanted to be hands on with the industry and have been a board member of the British Florist Association for many years, and Chairman since 2013.
Have you got a favourite flower?
Susan absolutely adores Tulips, even a florist enjoys receiving flowers as a gift from time to time, so I know to buy her Tulips for brownie points. And my favourite is Chrysanthemums – a marmite choice I think, you either love 'em or you hate them!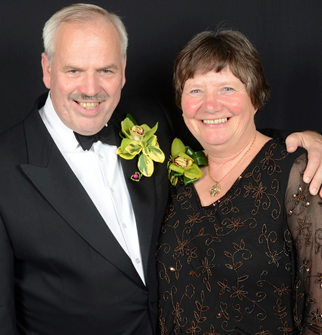 Do you have a stand-out special memory from the past 50 years?
Gosh, so many to choose from! Both Susan and I have the travelling bug and enjoy exploring the world. Being part of the flower industry has given us so many incredible journeys and special memories together; through Susan's competitions and judging and my Interflora work we been lucky enough to visit many countries including New Zealand, South Africa, Japan, Hong Kong, Germany, France, China Holland, Belgium and the USA to name a few.
One very memorable international trip we took together was when Susan was asked to be the florist for the Service of War memorial flowers located at San Carlos in the Falklands. It was a true privilege to give our support through flowers, and assist the families honour their lost loved ones. Susan is really passionate about bespoke funeral flowers – give her a double ended spray any day to create – and feels grateful to be able to help people give 'the last gift' of flowers to say farewell.
What do you love most about your job?
So many things; the variety with no two days ever the same, making lifelong friends in the industry, the local community around us. One thing I always love is the commute – the drive in the morning to the shop is along the coastal road, with stunning views out over the bay. Torbay is naturally inspiring and so beautiful, we are so lucky to live and work here. If you haven't been before I recommend a week or two exploring Devon; great seafood, sandy beaches, country walks and plenty of traditional pubs. And of course a visit to Susan's Flower Shop in Paignton should be on your bucket list too!
Any top tips for other florists and small businesses?
My tips for any florist out there, whether you are just starting out or been in business longer than us;
Get out there, meet people. You can learn a lot and make friends with other local florists, engage with businesses such as hotels and hairdressers – put a face to your brand.
Invest in a brilliant website designed for florists, with shop online a must have! This is how so many customers want to buy now and you need that online presence as a flower shop. Having all our websites with floristPro was a game changer - they help with any updates and our customers can order for same day delivery.
Seek professional help; if numbers aren't your thing, employ a bookkeeper, or if you are looking at premise leases ask a solicitor and surveyor. It saves you time, stress and money in the long run.
Social media is one of the cheapest and effective marketing tools. A way to keep in touch with your customers and gain new customers, and also keep you inspired with colours, latest styles and new trends.
Support your industry. The British Florist Association do some great work behind the scenes to help florists and the industry, host events and competitions, and offer business advice – you can become a member today to benefit from all of this and more!