Online buying trends for Mother's Day 2020
24 February 2020
We have survived Valentine's Day for another year, and moving swiftly on to the next main event for a florist – Mother's Day! Falling on Sunday 22nd March this year, it gives us a good few weeks to refresh and get ready for action. From changing over the shop window display, putting in orders for more pink roses to tweaking your website with the latest floral designs, it is a busy period but totally worth it!
Last year saw the UK royally spoil their Mum's, spending a massive £1.6 billion on gifting as reported by Trusted Shops data. With 54% of consumers looking to buy Mother's Day gifts online (predicted by Get Savvy research) this year, you need to invest some time in thinking about your website and the range you offer to meet demands and online buying trends of consumers. With a little bit of research, pre-planning and TLC you can ensure your website is full to the brim with flowers and gifts that buyers - and lucky Mum's! - will love this Mothering Sunday.
Read on for our predictions for Mother's Day gift trends, buying habits online and how to get your website ready for a successful Mother's Day in 2020.
#1 Seasonal key words and phrases
The peak time for key words typed in to Google is approximately 2 weeks before Mothering Sunday according to research by Business Wire. As we enter the month of March we expect to see a big spike in related search terms – with some of the most popular being best gifts for mum, send Mother's Day flowers, Mother's Day present and gift ideas for mum. Which means you need key words and search terms for Mother's Day on your website ready to be found by Google and users!
So how can you help optimise your website for key words and search terms? There are severeal clever ways to easily add seasonal content to your site without it looking spammy (which is a big NO NO).
Add some seasonal content on your home page, mentioning your Mother's Day range and gifts you deliver locally. If you offer Sunday delivery remember to include this in the text - an important piece of information for customers to know! Just don't forget to remove the text after the event is over – it gives a bad impression to consumers if you have irrelevant information still on your site.
Blog posts are an effective way to add seasonal content and key phrases to your website, and help drive engagement with customers. This time of year a blog post for gift guide ideas for Mother's Day or seasonal flowers to choose that Mum's will love is perfect to publish in early March.
Have an eye-catching home page banner on your website that advertises Mother's Day, reminding customers when it is and linking through to your gift range for the event.
#2 Research gift trends for 2020
Now, we aren't just talking about fresh flowers but also all the popular gift sets that will be trendy in 2020. Customers are demanding more and more for presents that are a bit more interesting and personal – after all, every year they are looking to treat their mum with something special, and however cute they are there is only so many Me to You Bears you can give!
This year along with bespoke flowers from a local florist shop (which are always a top choice for Mother's Day!) we predict specialist Gins, eco-friendly gifts, houseplants and luxurious candles will be top choices in the UK. Take some time and investigate if there are any local suppliers, artists, growers you can team up with to offer Mother's Day flowers and gifts that customers actually get excited about ordering.
Many UK florists hold alcohol licenses so they can sell wine and champagne as an add on gift with flowers. So how about mixing it up a little and incorporating the big trends such as Gin - a gorgeous bouquet of pink seasonal blooms, bottle of luxury Pink Gin and a box of salted caramel truffles makes a fabulous gift set to sell online.
We love the bespoke gift sets that Flowers by Nattrass in Darlington offer on their floristPro website, with a modern twist they combine seasonal flowers with popular gifts such as Masons Gin, Prosecco or luxury chocolates. Their bespoke flowers and gift combination are always best sellers at key events like Mother's Day.
#3 Get your Mother's Day range online ... PRONTO
In 2019 research by Business Wire showed many online retailers released their Mother's Day range 2 weeks before Mothering Sunday. But our top advice? Get your Mother's Day range online ASAP after Valentine's is over!
Although some consumers do leave it last minute to order Mother's Day gifts online, many like to get organised and browse for ideas and order sooner rather than later. And if your lovely flower range for Mother's Day isn't available for people to see when the customer visits your website ready to purchase, they will simply go and find a competitor that does.
Another great idea to offer your customers is an incentive to order early – how about a promotional code? On the floristPro website system you can set up discount codes easily, such as free box of chocolates if you order before 15th March or save £5 when you order online. The customer is happy as they are getting a special deal and you are happy as it helps you stock plan better and secures the local order.
#4 Wild about Floral Workshops
Mother's Day is about spoiling that special lady - may it be a mum, grandma, aunt or guardian who plays a big part in someone's life. A lovely and thoughtful way to honour this relationship is spending time together and enjoy building precious memories together. Flower Workshops to celebrate Mother's Day is a great way to encourage people to have fun together whilst learning a new skill. A Mother's Day theme workshop that people can book on for them and their mum to enjoy together could include an afternoon making floral crowns and glass of champagne.
With the floristPro website system it is easy to have workshops set up on your website – you can have a dedicated page to Workshops explaining what is included and an online booking system. One of our florists' nestled in Kent, West Malling Flowers, run successful workshops throughout the year with many of them selling out months in advance! They love the chance to engage with their local customers and teach them some floral skills, with many customers coming back again and again for workshops and to buy blooms. Why? Becasue they have the connection with the West Malling Flowers brand and trust them.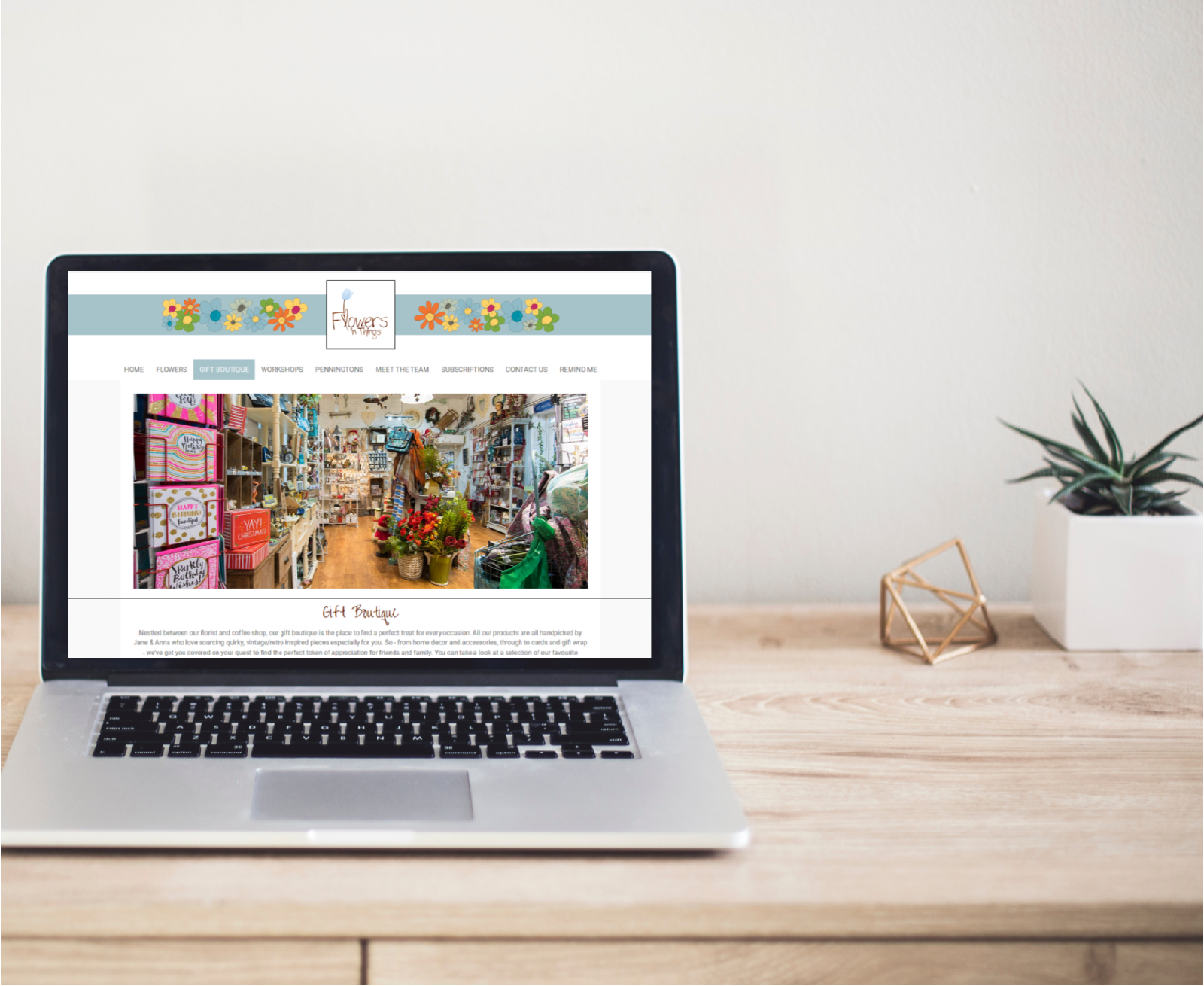 #5 The perfect finishing touch
Add on products are things like cards, helium balloons, chocolates, teddies, candles, wine and champagne. Many of our online florists source beautiful add on products, such as cupcakes from the local bakery on the high street, greeting cards by local artists, hand-crafted pottery and fine wine from English producers.
Add on products on a website are a brilliant way to:
1. Help the customer order what they want and personalise the floral gift. By giving them the option to add on, they can sort a thoughtful gift all in one place.
2. Help boost the average spend on your website. Last year research by Trusted Shops showed the average amount people in the UK spent on their Mum for Mother's Day gifts was £58, proving consumers want to treat their mum to something truly special - so help them do this!
Our lovely florist Flowers 'n' Things in Spalding know the power of the finishing touch gift! Along with bespoke bouquets, their shop is a treasure trove for unusual gifts and presents that go perfectly with flowers. They utalise their gifts by having a dedicated page on their website to their gift section and offer customers the chance to order online with flowers for local delivery.
#6 Prepare for last minute buyers
So whilst many consumers plan ahead and order with plenty of time to spare, some leave it very last minute! One of the key things about local florists is you can offer what big competitors often can't – personal service.
Make sure it is clear on your website that you are delivering on Mothering Sunday to the local area, that your flower shop is open for last minute flower pick-ups, same day orders are being excepted until 12pm on Mother's Day, a phone number for direct help from their local florist. Yes, it can be frustrating with last minute orders at such a peak time, but as a local business people rememebr great service and talk about the great service to their friends and family. Be the business they are talking about!
#7 Track your results
Now this isn't a trend as such, but more about tracking your own business trends! After any key event, you should look at your facts and figures such as what was the top selling product online in March, and you know to have something similar next year! What didn't sell so well – is there a reason why?
Google Analytics is also a key tool for websites, which we can set up free of charge for floristPro members. It is full of helpful insights such as volume of visitors to a site, what the most viewed page was, and where the traffic came from (such as organic search, paid ads or links from other websites). This information is gold dust – letting you know what is working and how people are finding you online, so next year you know what works best for your business.