Celebrating 13 years of floristPro
05 February 2020
February is always a special month for floristPro, as it is the month of our business birthday! This year we are celebrating reaching the teenage milestone of 13 years old - and my, what a 13 years we have had! From launching our first floristry website in February 2007 and fast forwarding to 2020 when we have over 600 live websites in the UK and across the world. What an amazing journey we have had so far, thanks to all our lovely customers and industry friends who have joined us along the way.
Join us as we take a look at some of our favourite memories and snapshots of floristPro world over the past 13 years.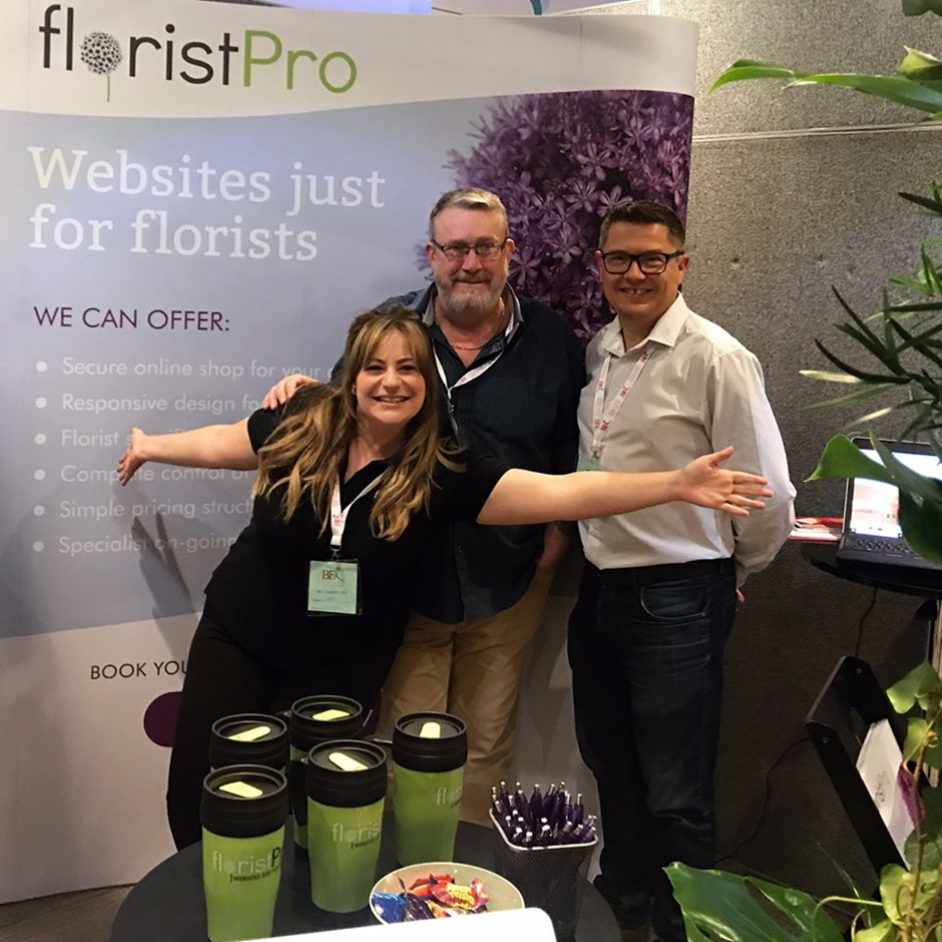 October 2019 – floristPro new look!
Some of our team – Cara (Marketing Manager), Mark (Head of Business) and Bill (Support) – headed off for a weekend at the British Florist Association FleurEx event in Leicester. floristPro are proudly corporate members of the BFA and we try to attend every industry event and meeting that they host to show our support. 2019 FleurEx was particularly exciting for us, as we had just launched our rebranded floristPro website and had some gorgeous new event displays to show off and goodies to give away! Pictured right is Cara, Mark and Bill dressed to impress on our floristPro stand at FleurEx 2019.
We loved giving our website a new feel - really bringing to life our brand ethic, showcasing our website features and services and sharing our team expertise. Our design and marketing team spent time researching and planning the style and content we wanted to share. Alliums have always been our favourite flower and featured in our branding from the very beginning, so we wanted to make it more an eye-catching part of our website design. Our design team cleverly captured the colour pops and texture of the Allium, which is a theme we carried through on every page along with easy navigation, plenty of images and helpful content for florists.
Our favourite page on the new website has to be the Meet the Team page, where you can put a face to the name and learn some interesting facts about the team!
May 2018 – Flower Shows
We love a good excuse to escape our office desks for a few days and go out and explore the flower world! It gives us a chance to really enjoy the flowers, new designs and stay up-to-date with industry trends. Our team often attend floristry events and shows, and we have been to some awesome ones over the years including International Floriculture Trade Fair in Netherlands and RHS Hampton Court Flower Show.
But the crown for our favourite so far has got to be our visit to RHS Chelsea Flower Show – the magical atmosphere, floral designs and gardens to explore, and seeing all the competition creations. When we come back from flower shows we always share sneak peaks and ideas from the shows on our social media pages; find us on Facebook and Instagram to keep up-to-date with all the latest from floristPro HQ.
November 2017 – The Flower Bus UK tour
In Autumn 2017, our Marketing Manager Cara was invited to be part of the team traveling round the UK on The Flower Bus! Florence The Flower Bus was an initiative set up by Florismart, bringing flowers and business ideas to florists across the nation. On board joining Cara was our friends from Strelitzia Software, flower power from Chrysal, Oasis and the wonderfully talented Mr Jonathan Moseley even made a few guest appearances!
From Aberdeen to Brighton, The Flower Bus traveled for 6 weeks stopping off at cities and towns so florists and members of the public could hop on board and learn more about the industry. Cara met so many lovely florists and got to share her marketing, website and online tips to help florists bloom their business.

October 2016 – Winner of Retail Website of the Year
Once a year the British Florist Association host Industry Awards at FleurEx, celebrating the hard work of florists and suppliers with a fabulous Awards Gala Dinner. Every year we are delighted to see so many of our florist clients nominated for the awards but 2016 was especially magical for us – the 1st, 2nd and 3rd winners of BFA Retail Website of the Year were all floristPro websites! Sian Wild scooped first place with The Flower Lounge Didsbury, in close second place was Neil Whittaker's striking Design Element website, and third place went to the beautiful Mad Lilies in Banbury.
Let's just say there was lots of wild dancing and celebrations at the Awards party that night!
August 2014 – floristPro new HQ
In 2014 our team had blossomed and we needed a much bigger office space! We moved in to our new open plan office building 'Allium House' in East Preston, West Sussex which had plenty of growing room for our expanding business. Our Managing Director Tim celebrated his milestone 40th birthday in the new office, surrounded by balloons, cake and of course lots of flowers.
Our floristPro HQ is still happily located at Allium House, and is now home to all 12 of the floristPro team – plus the office puppy Bailey! We are a mixed bunch with skills across IT, Design and Marketing - which together is the perfect combination for creating the best web design for florists. There is often cake and biscuits brought in to the office, and we love having a good laugh and a cup of tea together. Sometimes after work we are known to stroll down to the local pub together for some food and a drink or two!

June 2011 – Exclusive Image Collections
We are always on the look out for new website services and products that will helps support our florists. Early on, we got asked a lot about product images for websites – it was the one thing florists were worrying about that they didn't have professional images to use. As a busy florist, w it can be tough to find the time, right setting and equipment to take photos of your lovely floral designs.
So we teamed up with our talented friends Kevin Plumstead from Elizabeth's and multi-award winning florist Neil Whittaker from Design Element, to create some exclusive image collections for floristPro customers. Tim and the team with a professional photographer and studio full of flowers, snapped our first ever floristPro Image Collection! Pictured left is sneak peak behind the scenes of Tim and Neil hard at work on the day!
floristPro now have a wide range of Image Collections for our florists to purchase which include Wedding, Core Gift and seasonal events such as Valentine's and Mother's Day. Image Collections start from just £10 +VAT, so are affordable and easy for our customers to add to their website!
February 2007 – First floristPro website launch
The launch of our first EVER floristPro website was a memorable day for all involved. After months and months of testing the system and developing the features, Tim had created the floristPro system based specifically around florists' needs.
Our first ever website was for Elizabeth's the Florists in Norwich, and was extra special for Tim as it is his families florist shop. A third generation florist, Elizabeth's the Florists is now owned and run by Tim's Uncle Kevin. The website was a huge success with the staff and customers, who found it easy to use and order flowers online. Below is a snap shot of their first website - over the years as trends and technology change the website has changed too! Check out Elizabeth's the Florists latest floristPro website design; that is the great thing with our websites is they are flexible and adaptable to suit business, Google and customer needs.
Word soon spread about the new website provider for florists, and the demand for a floristPro website grew from there! We now proudly work with over 600 local florists, creating the best web design to help them grow online. Interested to learn more about a floristPro website? Get in touch with us today on 01903 773377!