Top 6 tips for your Christmas website
06 December 2019
As we enter December, it marks the start of a period that we affectionately call 'the three peaks' for florists; Christmas, Valentines and Mother's Day. It is when florists are EXTRA busy, with three key events all crammed in to 3 wild months when everyone is after gift flowers!
Your website is the online window to your flower shop; it is vital the content is kept up-to-date, seasonal products available and easy for customers to find what they are looking for. We share our top 6 tips for your floristry website this Christmas – the perfect recipe for festive success online!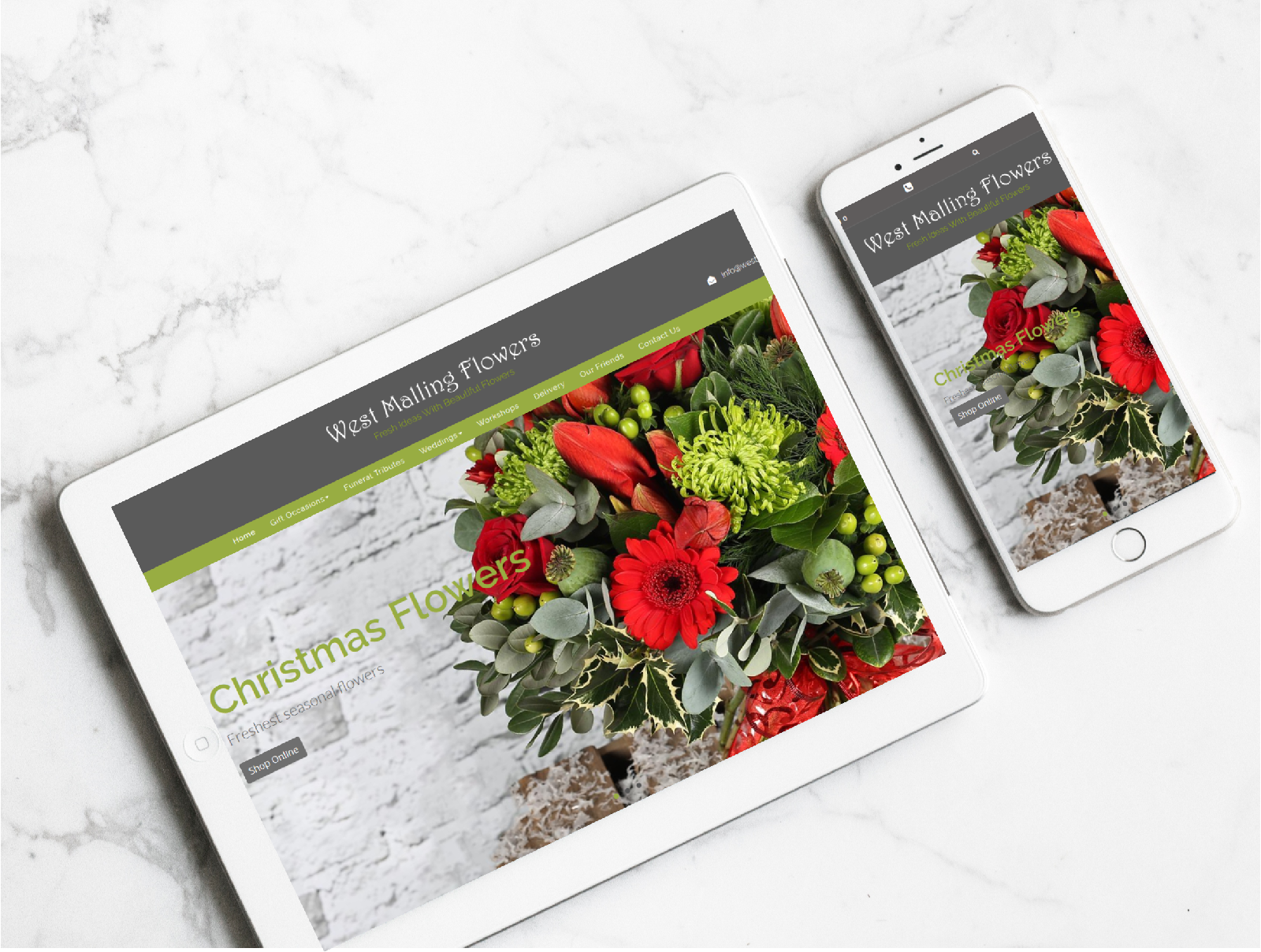 Festive Home Page Banner
Your home page is often the first page customers will see on your website. So at this time of year, add a sprinkle of Christmas to your home page by adding a festive banner! Your website home page is like your online shop window – it entices people in to shop with your brand. By changing the home page to suit the seasons, it helps promote your products and show as a business you take the time to keep your site up-to-date.
A great example of this is West Malling Flowers in Kent, who always have eye catching and seasonal banners on their floristPro website home page. They just get in touch with us to ask for a new banner and our team design one for them! We like to add a call to action button such as Shop Online or Order Now which help drive customers to click to buy!
If you have a floristPro website, seasonal home page banner updates are included in your monthly website package. All you need to do is give our Support Team a call or email us to request your Christmas banner is added to your website home page – and our Support Elves will do the rest!
Christmas Delivery Dates
HoHoHo …. hold your delivery vans! Santa should be the only one delivering gifts on Christmas Day. Plan ahead and don't leave it till the last moment to close your web shop for delivery, and add some helpful text on on your delivery page about your Christmas delivery options and open hours.
One of the many great website features of a floristPro website is you have complete control of your delivery options. Everything from delivery areas, pricing, same day cut off times and delivery days. You can set specific dates that you are closed over the festive period, which will mean customers can only select delivery on days you will be delivering bouquets of Christmas joy!
Want to discover more floristPro features which are designed just for florists? Head on over to our Website Features page to read more!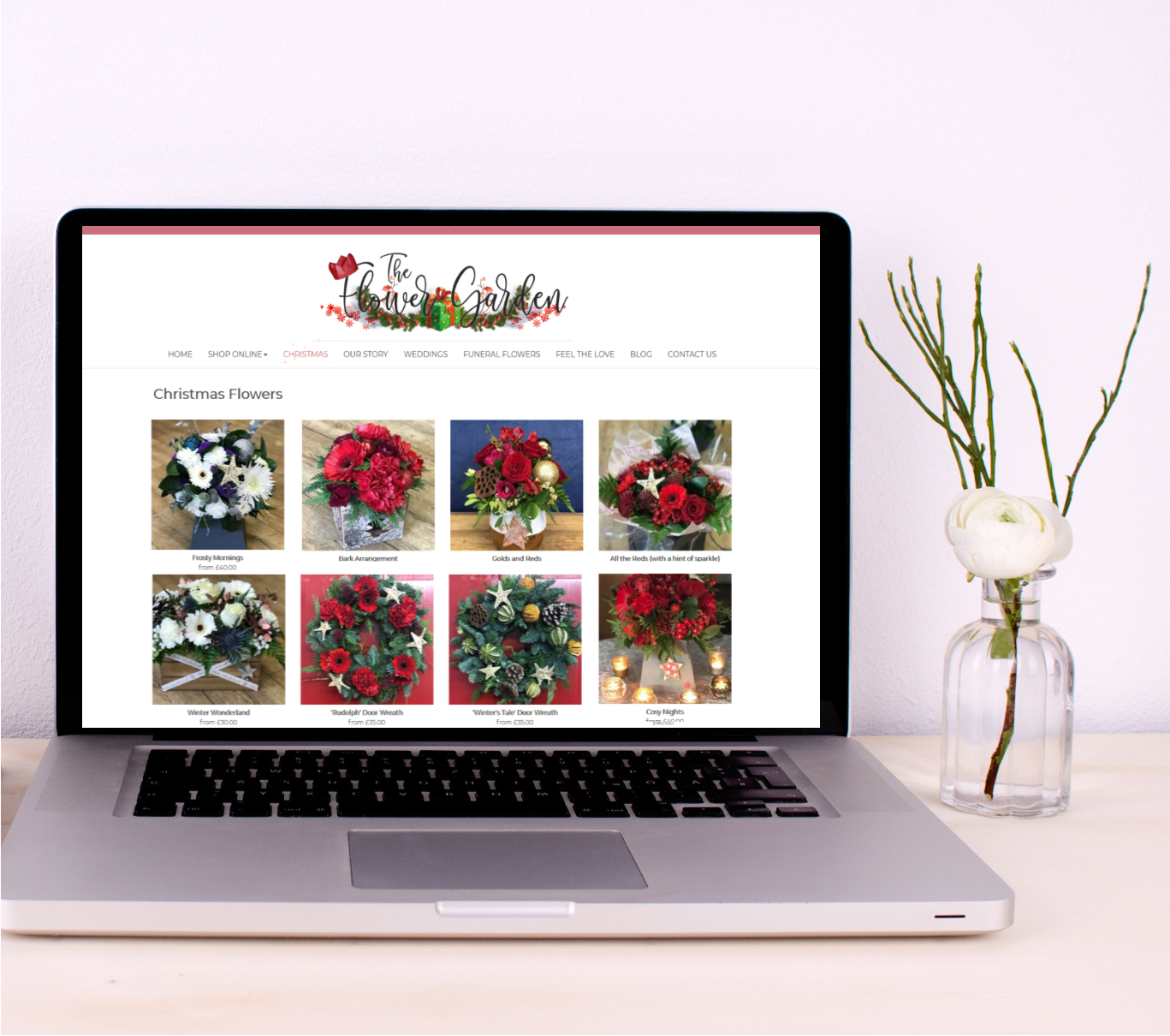 Activate Christmas Category
Keeping your online shopping categories up-to-date is important – customers and Google won't want to see a Spring flowers category in December.
With a floristPro website, you have an admin console where you can easily turn on or turn off shopping categories. This allows you to have full control of your website content and which products you are selling online throughout the year.
A lovely example of this is The Flower Garden - an independent florist in Barton, who launched their beautiful new floristPro website earlier this year. The team at The Flower Garden are fab at updating their website for the seasons; their Christmas category is full of beautifully bespoke festive bouquets, floral arrangments and door wreaths to tempt customers to order online.
Hints for your Christmas products
Have your Christmas products in one category or page, so it is easy for customers to find on your website
You don't need hundreds of different products, limit it to 20 or so best sellers; research has shown if you offer TOO much choice, the customer won't pick at all.
Offer a range of styles and colours. Door wreaths, door swags and garlands are growing more and more trendy.
Use clear, high quality images of your products. Many iPhones and smart phones take great quality images that are good to use on your website.
Try and have a simple background that you use for all your images such as white wall or brick.
Social Media
Christmas is a time for sharing – and the perfect excuse for posting on your Social Media. It is great to mix your post content up, so that it helps engage customers more with your product AND brand.
Social Media is designed to be an interactive platform, so useful and interesting content for your audience will attract their attention and encourage them to comment – and always make the effort to reply to them! Building trust with your audience is a vital selling tool; by sharing your knowledge and passion for flowers, people start to understand why they buy from a local florist shop.
Topic posts that are great for florists
A lovely image and information on your Christmas flowers available. Always add the link to your website to every post, so that it is easy for people to simply click the link to start shopping.
A 'how to' video such as how to look after your festive door wreath
Winter flower wedding ideas or recent weddings you have done. Remember to tag other local business involved such as the wedding photographer, venue or cake maker.
Share any Christmas markets or festive events you may be taking part in.
Running winter workshops or classes? Make sure people know about them and how to book.
Behind the scenes or meet the team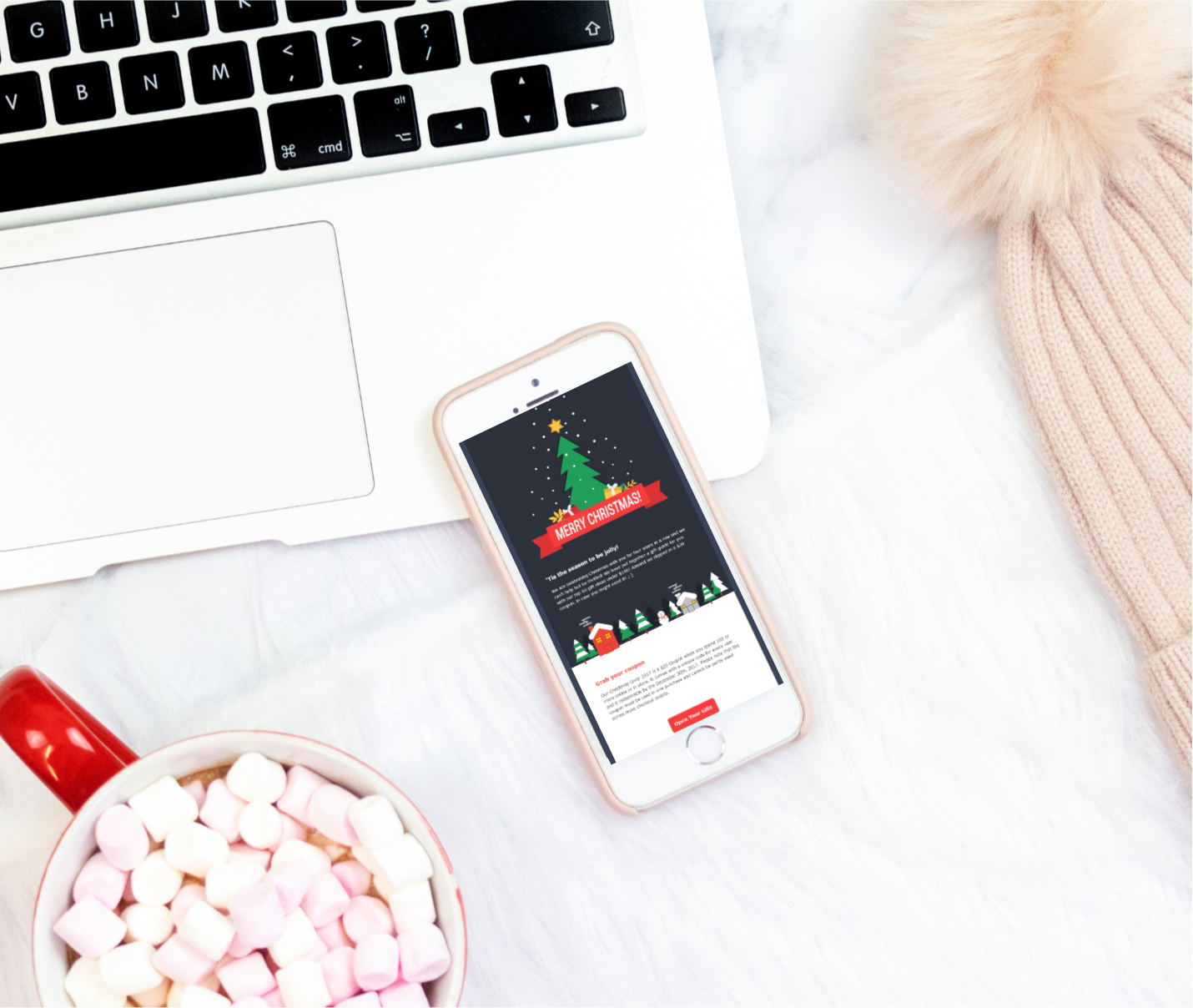 Use your mailing list
Your mailing list is like glitter gold dust – very valuable and should be used with great care! Under the GDPR (General Data Protection Regulation) that came in to effect from May 2018, your customer mailing list has to be made up of email addresses that have OPTED IN to receive marketing emails from you. So this is a list of customers who know about your brand WANT to hear from you about your flower services.
This is your chance to help those people. Give them useful information on your emails such as gift guides for Christmas, exciting local events or late night shopping you are taking part in, share exclusive offers such as 20% off early bird when they order online ... the list goes on! Keep your emails short and sweet, with some nice images and clear message to get your point across.
We recommend using an email marketing service such as Mailchimp, which offer a free version for small businesses. You can easily make email templates, manage your email lists and quickly send email campaigns to your customers – they look professional and have the required GDPR information too.
If you have a floristPro website, we have already added the GDPR required OPT IN tick box at checkout so your customers can join your mailing list. Your floristPro admin console will have a mailing list section, so you can easily control and create mailing lists which can be copy and pasted in to Outlook or Mailchimp.
Sparkly Special Offers
Who doesn't love a festive special offer? A promotion helps encourage customers to order online, and may be the selling point between you and a competitor. You can chose to share the promotion on your social media or perhaps send it out to your customer mailing list.
When running a promotion remember to make it clear; what it is they are benefiting, the start and end date, how to redeem, and the discount code to use!
A floristPro website gives you the option of setting up discount codes whenever you want. So if you want to offer a free box of chocolates with every order or £5 off when they spend £50, this is easy to do! Talk to our Support team today if you want to learn how to do this on your floristPro website.